Curatorial Project "Tangents"
A project I have been working on for over 6 months, "Tangents" includes this amazing curation of established artists in North East Ohio. This is a collection of painters, sculptors, and an architect who all have a unique and transformative outlook on Geometric Abstraction in their practice. More to be announced on this project over the summer.
Location: Artist Archives of Western Reserve
Dates:Nov 2 – Dec 16
Opening Reception: Thursday November 2nd 5:30 – 8:00pm
Tangents: Abstract and Geometric Art in Northeast Ohio curated by Jenniffer Omaitz. Featuring Ed Raffel, Natalie Lanese, Gianna Commito, Susan Squires, Mark Keffer, Catherine Lentini, Andrew Reach, David Louis Cintron, and Mark Howard, the exhibition is a collection of diverse and prolific artists who make color, optical interplay, mathematics, space, surface, process, and the built environment a part of their artistic language.
New Work appearing in the 12 x 12 show at YARDS projects
A new small work that measures 12" x 12" will be on display with over 150+ other works at Yards Projects. Show opens 1/19 and is ongoing till March 2023.
Special Mention in new article
Starting with exciting news first. My work, "Violet Vision" will be featured in the forthcoming show at the Ashtabula Center for the Arts in October. It is actually for the Paul and Norma Tikkanen painting prize. Opening dates for this I believe are October 8.
I am also 1/2 way through a new body of work that has been culminating all summer. Embedded in this are a few images of the new work. You can view more in the Painting 2022 page.
In May of this year, I officially kicked off my new body of work. I should really say bodies of work because there are two distinct styles I am pursuing. Throughout June and July, the work will become more developed and distinct. Attached are a few of the new pieces that are a direct link to this new split body of work.
New Mini Paintings for summer
During the start of COVID I did a project where I made a collection of small paintings to help with the costs of living and studio upkeep. These minis also gave me the freedom to experiment in the studio. This summer I am reviving that tradition by starting my season with mini paintings. You can see the growing collection in my 2022 painting page; scroll down the browser to see the works. Price points are under $200 for collectors on a budget.
In issue #2 of New Visionary Magazine
Beyond excited to announce that I am in issue #2 of New Visionary Magazine. visionaryartcollective.com/magazine.
@visionaryartcollective. Issue #2specifically targets artist-educators. I have been teaching for 15 years this year. A big shout out to my Kent State Interior Design Studio students who have made this semester especially amazing!
Featured work includes "Prizm" and "Some Like it Hot" available through @spacegallery400

3rd Period Art opening at Gallery 202 in May
Finishing up work for a show opening in May, "3rd Period Art" that will debut at the 78th street studios complex in Gallery 202. This show will have a variety of Clevland area based educator/artists who have been working for several years. Excited to be on the roster.
Breaking ground on a new series of paintings in the studio starting in April. I plan on spending quality time in my studio this summer to create a new body of work. I like to call this my backyard residency. Studio visits are welcomed from May to early August to see the development of the new painting and sculpture work.
Working on a series of small paintings while developing larger work. Please check out my painting 2022 page with exciting new pieces. Smaller work is always available directly from my studio.
Group Show At YARDS Projects
Will be in a group show at YARDS projects opening January 13 ongoing till February 26. New works on paper and predatory work that informs the larger paintings.
Pages on this website "Shop Sale" and "Small Paintings" both have a sale on all items listed till December 15.
Shop Sale has a 25% off deal on all artworks. This sale is before shipping is added.
Small paintings shop has a 10% off with code SMPAINT
International orders must contact directly for shipping rates are different than USA orders.
"Invisible Forces" Opening November 18, 4-6pm
Installation of "Invisible Forces" in progress. 
Installation started on the show "invisible forces" yesterday. Here are a few images of the preview.
Starting to install show at Mount Union Collage
Started to install the exhibition, "Invisible Forces" at Mount Union Collage on 11/6. Attached are some images of the install. For a list of the work visit this page here.
More is More at Akron Art Museum
I have one painting on display for the group exhibition More is More till March 27 at the Akron Art Museum.
Image: Human After All
Opening night on 8-20-21 at Space Gallery in Denver
Opening Friday August 20 at SPACE Gallery Denver Colorado
SPACE Gallery Denver Colorado, August 20-September 25
Multiple Works to be featured in a show of 4 artists.
Will be exhibiting 12 new works completed this year and from the end of 2020. Below is a list of artists in the exhibition.
ALYSON KHAN
JENNIFER OMAITZ
ANTHONY FALCETTA
JOSHUA ENCK
Work Featured in Painting Center Exhibition
"One in a Year curated by Kathy Cantwell and Shazzi Thomas. This exhibition features 100 artists who are including work on Artsy that reflects how they used art as a tool to explore, develop and practice creativity as a means to wellness during 2020."

My work "Freedom" which was finished last year is both a reflection of more time to paint in the studio and the reaction to the end of a long relationship.
Featured in Inaugural issue of "All She Makes"
Drawing accepted into Morgan Paper Conservatory show
One of my installation drawings has been accepted into the Morgan Conservatory National Juried Exhibition juried by Tizziana Baldenebro and Arnold Tunstall. Exhibition will open April 9th to May 22nd 2021. Stay tuned for annoucements.
OHIO, KENTUCKY, & INDIANA Regional Showcase at Manifest Gallery
Opening next Friday at Manifest Gallery in Cincinatti, Ohio. Very excited to be exhibiting with these amazing artists:
Kevin Gardner, Lee Heinen, Ron Isaacs, Ellen Lyon,Kathleen Pahl, Robert Pulley, Emil Robinson, Julio Cesar Rodriguez, Barbara Triscari, McCrystle Wood and Melissa Lusk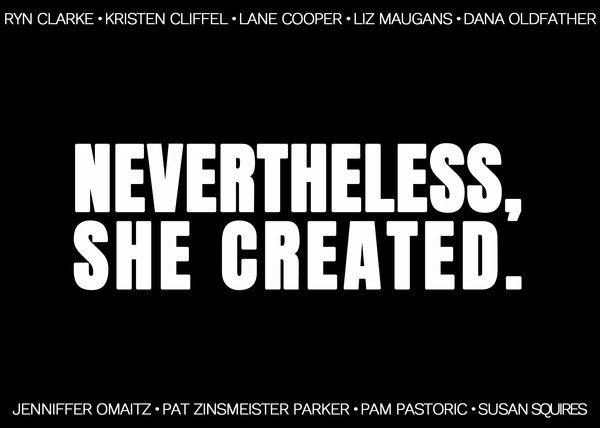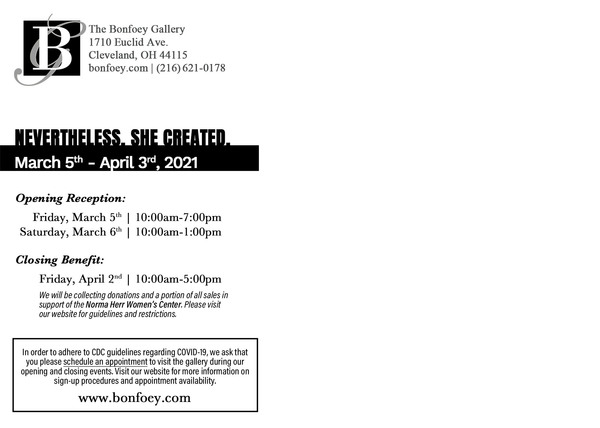 Very excited to announce an upcoming show at Bonfoey Gallery in Cleveland, "Nevertheless, She Created". Up for the duration of March and beginning of April. This show focuses on a small selection of North East Ohio Female artists that are working through a complex series of issues and process in their work.

The opening of the show will take place on Friday, March 5th from 10:00am-7:00pm. The gallery is limiting the number of people in the gallery to 10 at a time, offering 1 hour time slots where patrons can enter. You can also sign up at this link: https://www.eventbrite.com/e/nevertheless-she-created-tickets-139533866551
Last year was challenging and very difficult in terms of the COVID-19 pandemic for people throughout the world. It was also challenging on a personal level with trying to curve my time to make new works in the studio and teach in an online format. In June of 2020 I found a new cadance and practice to invigorate my studio routine tha injected new hope and inspiration into my process.

I teach part time between a couple Universities and try to keep a balence in my studio with production. I am paid very little for the time I put into classes and try to make up for that with being creative on many fronts. One of the things this pandemic has forced me to reconcile is a routine between working and studo life. This year I've been working dilligently to create new work so that I can accomplish this balence and grow my practice in new ways that invigorate all other aspects of my life.

So, I have started a new series of work that is filled with awkward balences, bright colors, and an alternating sense of perspective that is topsy turvy, awkward, not really grounded. This new work is reflective of the balence, or lack there of, that is present in my life and possibly the life of many others because of the pandemic. Bright colors symbolize hopefulness, idealism, and possibiliy, with gesture and painterly marks representing the human touch and dance in a confined surface.

Frequently my 2021 page for paintings will have updates with new works. My Instagram page @jennifferomaitz will have updates on things happening live in the studio. The goal is to move forward, evolve and strive for better work. So, please join me in this new direction, check out my updates on this platform and social media. Interaction is ecouraged!

Thank you for your continued support.

Jen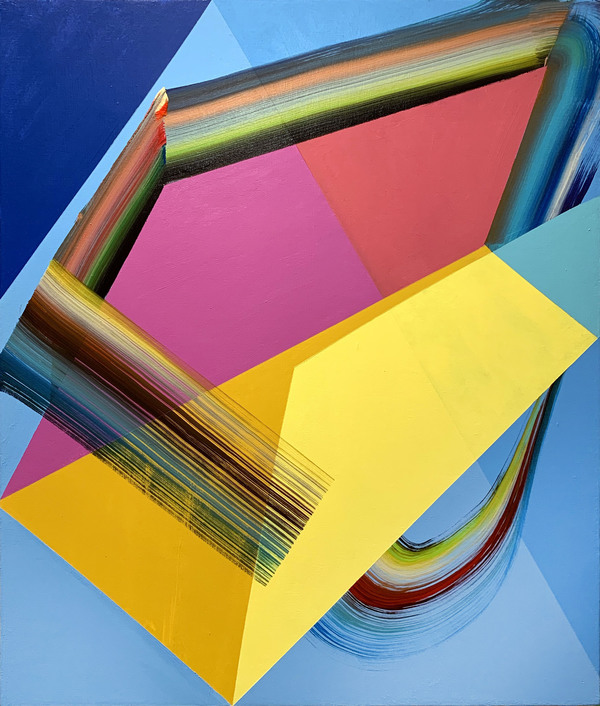 Working in the studio a lot early this year in preparation for a new body of work. Several pieces towards the end of 2020 and early 2021 have been finished. You can view them under my painting 2020 and 2021 tabs. These will be updated as soon as new works are finished.
New Work featured in local article
Exhibit Dates: August 7- 28, 2020
Location: The Hub Art Factory, 336 6th St NW, Canton, OH 44702
Exhibit: Parts to the Whole, Guest Curated by Michele Waalkes
Opening: Friday, August 7 during Canton First Friday Art Walk, 6-10pm
Closing Reception: Friday, August 28, 7-9pm **tentative, based on interest**
In Show at YARDS projects "Art Made in the Shutdown"
Extended Gallery Hours are as follows:
Friday, June 26th from Noon-4pm Open Gallery Hours
Saturday, July 11th 11-ZOOM
Saturday, July 11th. Noon-4pm Open Gallery Hours
Saturday, July 25th, Noon-4pm Open Gallery Hours
New Mini Works for sale on Website
Since Mid May I have been making small paintings and selling them directly through my website. This selection and series are designed for relief from the financial effects of the COVID 19 pandemic. The work on this page is exclusive for this relief project only. Like many other artists around the world I have found myself without work, with a loss of exhibitions due to cancellation or other factors related to the pandemic. This work is my attempt to alliviate some of the stress due to these factors. This site will be updated frequently with works available until the end of the year. Artwork is (and will be) priced between $50-$250 priority shipping included in the price available to ship anywhere in Continental USA. Support of the work will allow for further exploration in the studio and transition through this unusual time.

Works on this page will updated everyday or every two days until I end the series. It will last until the Fall of 2020.
New Paintings in "Woman XIII" show
5 new works curated into special Woman only exhibition at Lakeland Community College

Celebrate Women's History Month: Created by women, of women and about women
Curated by Mary Urbas
February 23 - March 27, 2020
Artist Reception: Sunday, March 22, 2020, 3:30 - 5 pm.
Women of Achievement Awards: Sunday, March 22, 2 PM
7 paintings in upcoming show "With Devotion" at The Contemporary Dayton
"With Devotion", Opening January 17 till February 15 curated by Jeffery Cortland Jones.
9 paintings will be on view from my collection of work.

On view will be works by Alison Jardine, Heather Jones, Jenniffer Omaitz, Paige Williams.
Opening Events
January 17, 2020
Gallery Talk 5-6 p.m. | Reception 6-8 p.m.
Curator in Residence Jeffrey Cortland Jones leads a walk-through of the exhibition with the artists.
Free & open to public

January 25 | 1-3 p.m. | Led by Alison Jardine
Workshop: Make Great Art on your iPad
Registration required


Interview on Art Uncovered
So excited to have been interviewed by the fabulous Kimberly Ruth on Art Undercovered via BTR Today. Please check out all the interviews and format of this station/arts community. Great resource for all of the arts!

Original aired on October 22- listen here:
https://www.btrtoday.com/listen/artuncovered/jennifer-omaitz/
New work in forth coming show In Akron
I will be debuting two new scultpures for the Winter Soulstice show on December 7. This will be in celebration of all current and former residents of the Akron Soul Train Residency award recipiants.

Openin reception is December 7, 6-8pm
runs from November 27 - January 4

2019 Alumni Exhibition at CIA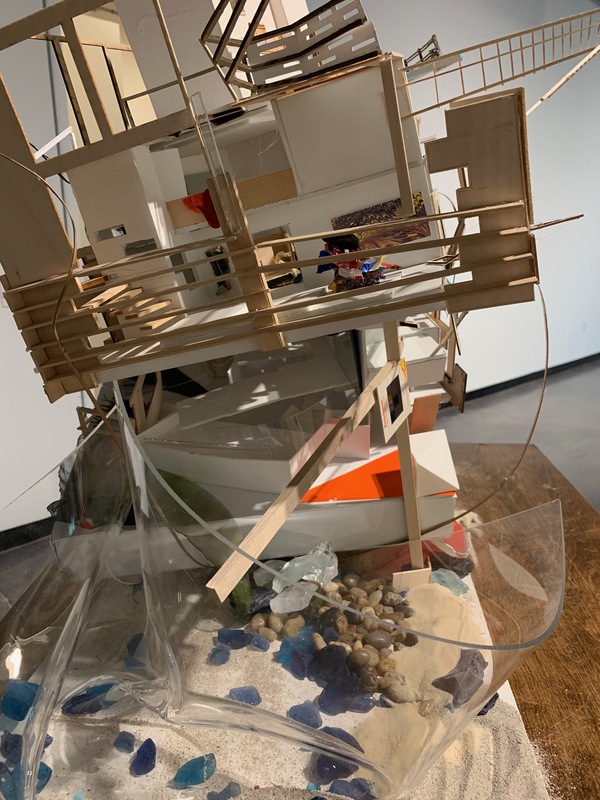 Please join me in celebrating two new works in the 2019 Alumni exhibition at CIA. "Miami Beach House" and "Stacked Structure" will both be remixed in the newest presentation for this exhibition. This will take place at the Reinberger Gallery at the Cleveland Insitute of Art.

Opening reception, Friday, July 12: 5–8pm
Monday–Thursday: 10am–5pm
Friday: 10am–2:30pm
Saturday and Sunday: Closed