---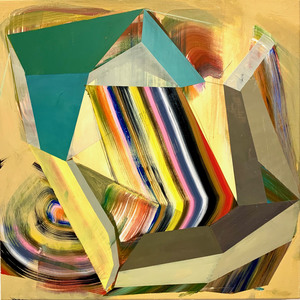 2020
In 2020 I have expanded my work to include and remix many of the formal and stylistic tropes I've employed in previous years. Continuing the use of an ad-hoc process which combines digital programs to aide in analogue applications to advance my layering/planning stages. The work looks more complex and takes a little longer to concieve. Ideas of creating an image/space that is non descript yet referential to architecture, graphic arts, and painted gesture.
---
---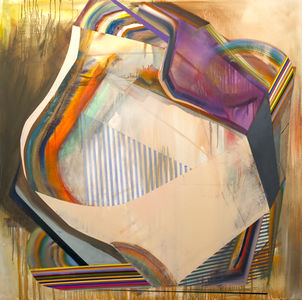 2018
Spaces both real and imagined; dualities, boundaries, and new experiences become compounded authentic experience. Energy from both practices of painting and sculpture reveal a depth of investigation for ongoing interrelationships between order and chaos as they fluctuate between environment and dimension.
---
---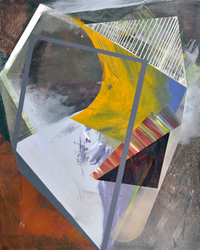 2015
Folding Gesture explores change in spatial order that appear fractured or fragmented. These states can remain calm or reconfigure coherence in the painting. I am interested in the connection between a fold as it relates to architecture or design and gesture as it relates to aspects of drawing and 20th century painting.

---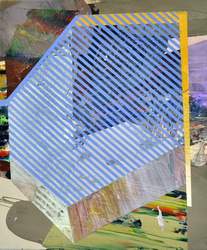 2013-14
Solid Movement is an investigation into gesture and its ability to encapsulate time and psyche, fuse internal and external, and record conceptual state changes in solidified form. This series struggles to define beauty, exploring abstraction as incident and artifact of the process in which paint is applied. There is a constant struggle between surface and ground; between paint and the boundaries within the painting. This series of work attempts to unify my sculptural endeavors with my interests in painting.

---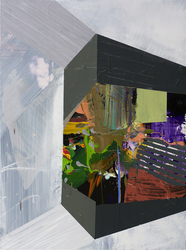 2011-2012

Above ground, Beneath the Surface, is an ongoing body of work concerned with the history of abstraction, architecture, landscape, natural disaster, and a tactile response to painting. The current work in this series struggles to define beauty, exploring abstraction as incident and artifact of the process in which paint is applied. There is a constant struggle between surface and ground and between paint and the boundaries within the painting.

Over the past three years I have explored site-specific installation. The installations I have built encompass three-dimensional landscapes frozen in the midst of a chaotic event. I incorporate drawing and painting with objects, igniting play between the structure of the gallery and the theatrics of the painterly gesture. This sense of theater is a formal extension of the shadows cast by gallery lights, the configuration of the wall, ceiling, and the intrinsic architectural nature of the given space.

Overall, my work explores space; both physical and psychological. This refers to "Space" as it is applied to a two dimensional surface, or a three dimensional location. From the site of an installation to the surface of a support, my work explores themes of landscape, topography, geographical changes, the history of painting, and perception.

---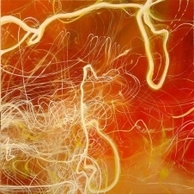 2004-2008
Noise is a collection of work focusing on the mental and physical process of translating a photograph into paint. The work is about our cultural interaction with music, technology, space, memory recall, and sensory overload.

My inspiration is rooted in DJ culture and European electro house music. A DJ and I have similar processes. A DJ takes a record, or sample altering it by pitch, tone, cue slicing, cross-fading, scratching, looping creating a sound that is technically layered and distorted. In the process of making a painting I take something that exists in the reality and alter it through technical approaches to impact the viewer.
---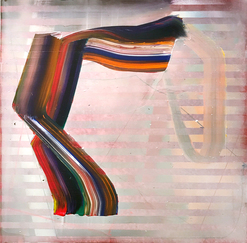 Akron Soul Train Residency
In 2017, I was awarded a creative fellowship with the Akron Soul Train. THe AST is a new residency program in the Northside District of Akron, Ohio (
more about the AST
)The work in this portfolio was made while on my official residency in October of 2017. The first part of the work was a series of paintings that are an honest investigation into space, gesture, mark, and boundary. These paintings are created on panel and made in an ad-hoc intuitive, collage kind of manor. These paintings are a a springboard for a collaborative piece from 6 different artists in the Akron Ohio area. Paintings that are chosen will be revealed during final show in December of 2017. The larger scope of the project behind the paintings is a long term project called "Other Geometries".
"Other Geometries is based off a chapter in the book "Constructions", by John Rajchman. The work presents an internalized, intuitive architecture that binds instinct with paint with the poetry of assemblage in a different place from where the original paintings where made. The geometry is gathered, found, fragmented, presented as a solid form in new gallery space "
This folio is a work in progress, so if you are viewing while I am currently working as an active resident, check back frequently for updated and completed work.
---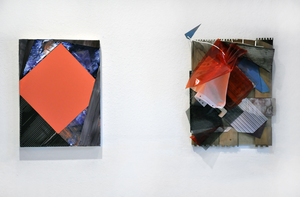 Other Geometries: Painting and Assemblage Ongoing Project
"Other Geometries is based off a chapter in the book "Constructions", by John Rajchman. The work presents an internalized, intuitive architecture that binds instinct with paint with the poetry of assemblage in a different place from where the original paintings where made. The geometry is gathered, found, fragmented, presented as a solid form in new gallery space "